Report of September 21st 2000

="font-weight: normal">

in French at
="font-weight: normal">

http://www.inter-zone.org/reportsept00fr.html
="font-weight: normal">Previous report of August :="font-weight: normal">http://www.inter-zone.org/reportaugust00.html
Next report of October 2000 :
http://www.inter-zone.org/reportoct00.html

Collage : Scott Lickstein




Cydonia Lounge
: contemporary art <
cydonia@iws.net
>
Hi all,
Hope you had great holidays. :) Here are the news of the month :
The CD :
1. "Music for Dreamachine" by Optical Sound :
http://www.zone51.com/opticalsound
Pierre Belouin has sent it, and it is really great work. The sound quality is perfect : see the details in the News page :
http://www.geocities.com/Athens/Crete/9445/News12.html
With musics by Ramuntcho Matta, a Brion Gysin 's recording, and Foe's music among all. You can get it from Pierre at
apo33@hotmail.com
.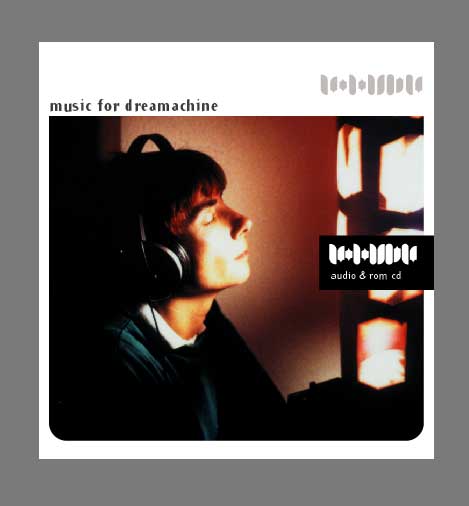 Izzy : my first dreamachine (1982)

Photo :

JL Baudron

2. "Algo" de Mglon :

Mglon

http://members.es.tripod.de/mioclonic

also has just made a CD. You can get it from him at

mioclonic@yahoo.com

Dreamachine :

I am establishing contacts through my work about the dreamachine, with people working in relaxation. I shall tell you the result soon. I have one here, so people can experiment it.

See the expo by

binda23

DREAM MACHINES 8 September - 29 October, 2000, Camden Arts Centre, London.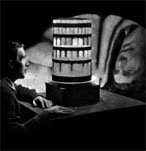 Brion Gysin
Interzone Productions :
Following the crash of Foe's hard drive and mine, we have been remaking the site, which Foe put in a new server.Some pages are still missing and we still have to work on some details. It should be ready at the end of September.
Foe created new e-mails : you can e-mail him at
foe@inter-zone.org
, Gary at
gary@inter-zone.org
, Rick at
ricochet@inter-zone.org
and me at
izz@inter-zone.org
.

Burroughs post-cards :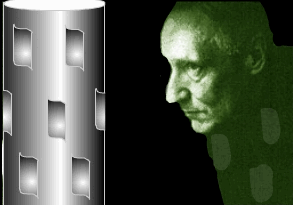 William Burroughs

You can see a number of post cards made by Grovetta and Alchemickal at :

http://bas.mypostcards.com/?elgrape+091219432707245

. By Coolcat :

http://www.geocities.com/SoHo/Suite/9524/index.htm

Detoxification :

A group of Zoners is working on the subject: see the articles in the rubric

Medical research

http://www.geocities.com/Athens/Crete/9445/dptmedic.html

in Interzone Academy .

More soon. I am looking for info here in Belgium on eventual treatments and the approach of it.

New pages in the sites :

1. In

Interzone Productions

:

http://www.inter-zone.org

:

Chiki had saved the index page he had made, so we still have it on line. The French and English menus http://www.inter-zone.org/index-e.htm and http://www.inter-zone.org/index-f.htm have been remade. But they are getting huge !!!!! Looking for something more practical.

In the rubric "Our partners" I have added a page on Claude Eloy's bookshop in Paris, "Dans la Gueule du Loup", specialized in collection comix, thanks to whom José Altimiras and François Darnaudet's comix "Le Taxidermiste" is gonna appear in the catalogue of the French comix for the next edition. See : http://www.inter-zone.org/gdl.html .

Foe: 4 Swans : http://www.inter-zone.org/foe.html

Morgan Landuré

:

Joseph - Acte II de Tabula Rasa

:

http://www.inter-zone.org/joseph.html

Manifestos :

http://www.inter-zone.org/manifesto

has been completed.

All the pages of the site are being changed or updated, so it's a bit messy presently. I have problems to load some pages at the moment (permission denied (?)), so they will be on line when I have solved them. Thanks for coming soon if the links do not work.

2. In The Western Lands

:

http://www.interpc.fr/mapage/westernlands

the links in the page containing the writings from

the Time of the Naguals

http://www.interpc.fr/mapage/westernlands/tn.html

, the anthology of Interzone, have been updated. Some pages hosted in

http://www.inter-zone.org

are still missing though. On line soon.

3. In the Interzone Academy :

http://www.geocities.com/Athens/Crete/9445/

The news of August and September :

http://www.geocities.com/Athens/Crete/9445/News12.html

&

http://www.geocities.com/Athens/Crete/9445/News13.html

In the other Zoners' sites :

Gary Leeming gary@inter-zone.org : Welcome to Interzone : http://web.ukonline.co.uk/gary.leeming

Exhibition :

binda23

DREAM MACHINES 8 September - 29 October, 2000, Camden Arts Centre, London see in the News page of August at

News 12

http://www.geocities.com/Athens/Crete/9445/News12.html

Edwin Johnston

artcar:

http://mypage.goplay.com/stupido/artcar.html

Studio X:

http://www.neosoft.com/~arrt

BURROUGHS POSTCARDS :

Amythecoolcat :

http://www.geocities.com/SoHo/Suite/9524/index.htm


Grovetta

grape2061@yahoo.com

http://bas.mypostcards.com/?elgrape+091219432707245

Michael Goolsby

:

zedsdeadbaby@yahoo.com

Collages at :

www.geocities.com/soho/8490

edix2001:

http://www.wakimbo.com/interaction/cont/journalling/keeping01.html

Kenji Siratori <

white-b@d4.dion.ne.jp

> and Mr. Dingle <

electricelf@loop.com

>


http://www.geocities.com/SoHo/Lofts/3076/kenji.htm


Cut-up pages at :


http://www.geocities.com/SoHo/Lofts/3076/ix1.htm

and


http://members.loop.com/~electricelf/clp.htm

So here is what we have been at lately. :)

You will be welcome for email exchanges, a chat, a visit of the pics gallery, etc., in "THE INTERZONE COFFEE HOUSE" at


http://clubs.yahoo.com/clubs/theinterzonecoffeehouse

. You can bring your own drinks without any risk of prosecution from the founders :) .

See also the other clubs : EL GORGO's

NOVA MOB

:

http://clubs.yahoo.com/clubs/novamob

: William S. Burroughs Research Club

"BINDA 23"

http://clubs.yahoo.com/clubs/binda23

, dedicated to the music project.

Amy Balot BURROUGHS'TAPE RECORDER :

http://clubs.yahoo.com/clubs/burroughstaperecorder

Jonathan

"PURPLE HOUSE" :

http://clubs.yahoo.com/clubs/purplehouse

Jazzresin <

jazzresin@hotmail.com

> :


http://clubs.yahoo.com/clubs/ambavant23gardeink

Apo33 mp3 :

http://artists.mp3s.com/artists/63/apo-33.html

leah_sublime

http://profiles.yahoo.com/leah_sublime

"Dandy In The Glass House".

http://clubs.yahoo.com/clubs/dandyintheglasshouse

"HATERDOM".:

http://clubs.yahoo.com/clubs/haterdom

"Chapel Perilous".

http://clubs.yahoo.com/clubs/chapelperilous

This report will be on the web at :

http://www.inter-zone.org/reportsept00.html

Between two monthly reports, see the news, regularly updated, in the News page :

http://www.geocities.com/Athens/Crete/9445/News13.html

For your chats you can use the ones in the chat page of The Western Lands :

http://www.interpc.fr/mapage/westernlands/Chat.html

Thanks for your work, your emails and participation.

Love.

Izzy

izz@inter-zone.org

The Western Lands

Interzone Academy

Interzone Productions