Interzone report of June 2007
French version
Previous report of April and May 2007
Next report of July 2007
Between 2 reports, see the news in the blog
Interzone News and Blogs
For the new comers: The reports of Interzone contain the monthly activities of the members of the group in different domains. As we are about 400 people in the world, all different, the whole might appear at first sight as an incongruous medley. For more information on the subjects developed here, please refer to the previous reports since 1997 in the page
Information on Interzone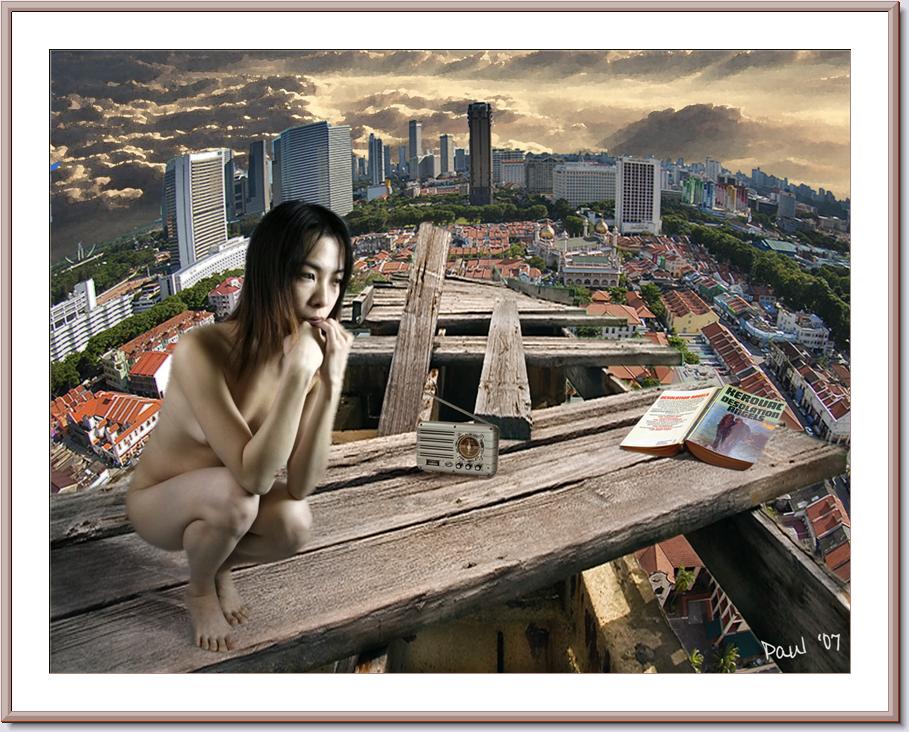 Paul O'Donovan
: "On Shakey Ground We Stand"

H

i all,

Next month: tenth anniversary of Interzone :

On August 2nd 2007 Interzone will be ten years old ! I invite all Interzone members who have been part of the adventure to a virtual meeting: there is a chat room at the bottom of the front page of the Western Lands
http://www.interpc.fr/mapage/westernlands/
. You can also join me on Skipe at
i.aubert@interpc.fr
and on Yahoo Messenger as baudron_isabelle
isabelle.baudron@wanadoo.fr
.

"live in London" 1982

BRION GYSIN with Ramuntcho Matta

Sub Rosa
www.subrosa.net
is publishing a new CDR, " live in London 1982" BRION GYSIN with Ramuntcho Matta
http://www.subrosa.net/online/main_dr_news_detail.php?AlbumID=52
. Here is below the article Serge Grundberg wrote about it:

"Autumn 1982, Brixton, London,

Brion Gysin, the eternal accomplice of William Burroughs, renews the methods of performance by reciting texts, hastily brought together:

Tessa, a member of Slits, Steve, of Rip, Rig and Panic, Gile, of Penguin Café Orchestra,and Ramuntcho Matta on guitar. Ramuntcho, in the style of Brion, called this session WHITE FUNK.

Most of the texts were written upon meeting Burroughs, at the time of the invention of the cut-up. The influence that Brion Gysin has had on contemporary music may never be taken fully into account, particularly when he introduced Brian Jones, of the Rolling Stones, to the shepard's music of Joujouka. Those times were still audacious: the music was created during the sound-checks ! Musically, the choice of traditional instruments expresses the desire to be free of machines (because, as Burroughs says, 'We ourselves are machines.').

This recording is evidence of the extraordinary creativity and spontaneity of the musical and artistic scene at that time. It hasn't aged a bit. Beyond the nostalgia inspired by the invocation of that bygone cultural scene, there is a call for a creativity of which it is difficult to find examples today." Serge Grünberg

Boa vista Atlantique Odyssée: on the way to La Rochelle

The sea adventurers have left the Azores at the beginning of the week and it will take around ten days to the Boa Vista to reach La Rochelle. You can read in their site
http://boavistaodyssee.free.fr/
the account of the different parts of their trip, 3 and a half month long. I shall go and welcome them and shall film the arrival

Vasha: Account of his trip:
Vasha Dadaja
has written an article on his trip from Lithuania to Morocco : "my magickal trip " in his blog
http://www.myspace.com/vashadadaja
. You can listen to some of his music with his group SALA in their page in My Space at
SALA
http://www.myspace.com/salalithuania
Joe Ambrose on the Ryan Tubridy show:
Joe was on the on the ryan tubridy show on wedesday 20th at 9am, irish time.
http://www.rte.ie/radio1/thetubridyshow/
The podcasts of the show are at
http://www.rte.ie/radio1/podcast/podcast_tubridy.xml
General semantics and non-Aristotelian economy:
I have been meeting Michel Icks in Paris, who is involved in research about economy on general semantics and we plan to collaborate in future on the subject.
Music:
Shocker TV update
"here is some update on shocker_tv (formaly known to some people as foe4foe presents dub subroza)

my latest hardcore acid folk album is available through several different distributors.

"serial folk collection" now available @ a couple of online stores: rhapsody online : http://www.msplinks.com/MDFodHRwOi8vd3d3LnJoYXBzb2R5LmNvbS9zaG9ja2VydHYvc2VyaWFsZm9sa2NvbGxlY3Rpb25ncmluZGNvcmVicmVha2NvcmVzcGVlZGNvcmVhY2lkZm9sa3RhcGVtdXNpYw==
eMusic : http://www.msplinks.com/MDFodHRwOi8vd3d3LmVtdXNpYy5jb20vbGFiZWwvc2hvY2tlci10di1UdW5lQ29yZS1NUDMtRG93bmxvYWQvMTQ0ODc0Lmh0bWw=

i am also planning to give out limited copies of vinyl edition - the folks who are interested should contact me on myspace: http://www.myspace.com/derrida " Foe
Video of the Master Musicians of Joujouka building their Guest House:
You can see two videos of The Master Musicians of Joujouka building a new guest house : at http://www.youtube.com/watch?v=TaeQ_PCE-Lo and http://www.youtube.com/watch?v=z6kWHOqgtWk
For priority on advance information email:
joujouka@gmail.com
http://www.myspace.com/mastermusiciansofjoujouka
The Whirling Dervish on CNN:
http://www.myspace.com/thewhirlingdervish The video of The Whirling Dervish ' interview on CNN can be seen at http://vids.myspace.com/index.cfm?fuseaction=vids.individual&videoid=2038681969 and on the front page of Interzone News at http://www.myspace.com/interzonenews

The dates of the concerts to come are :

July 05 2007, 9 pm at the Relax Bar, 5511 Hollywood Blvd., Los Angeles, 90027

July 11 2007, Alex's Bar *Free Show*, 7 pm, 2913 E. Anaheim St., Long Beach, 90804

July 12th, 19th and 26th 2007 at the Relax Bar, 9 pm

Kenji Siratori "Chromosome Murder" CDR

Another new CDR by Kenji

http://www.myspace.com/kenjisiratori

Label: Scarbox Records Catalog number: SBX002
myspace price: US$7.00 (plus postage: US$3.00) UK: 5.10 pond (with postage) Euro: 7.60 euro (with postage)
We accept Paypal. Paypal id:

kenji@kenjisiratori.com

Optical Sound Newsletter

:

June More Events http://www.optical-sound.com/ Details in Interzone news http://www.myspace.com/interzonenews

Galleries:

Paul O'Donovan :

New illustrations : "Jack Kerouac" http://www.geocities.com/reportersredacteursdinterzone2/odonovan39.html, "The Tonto Woman ~ further travels ", " "Chavez Shangri - La Terrace ~Not fade away " & "Ship of the Fools ~part 2" at http://www.geocities.com/reportersredacteursdinterzone2/odonovan40.html and " On Shakey Ground We Stand" at http://www.geocities.com/reportersredacteursdinterzone2/odonovan41.html

Liliane Caumont

:

Liliane is a sculpter an painter I have met in Paris. She has a site www.caumont.com with several galleries exposing her art.

Writings:

Howl 50th anniversary :

Paul O'Donovan sent me an article from the Guardian about Howl 50th anniversary : you can read it in the blog of Interzone News http://www.myspace.com/interzonenews

Sites:

The Wmmvrrvrrmm Place!

Dominic has put on line in his site a number of poems; paintings, etc.:

"My online sketchbook and two poems "
"here's my online sketchbook, some of the work there is directly inspired by William Burroughs, you might notice pictures of mugwumps based on the descriptions from Burrough's novels popping up from time to time, although a lot of my work is brought about my pursuit of the surrealist tradition and acknowledgment of some sort of spirit world, otherdimensional phenomena and shamanistic ideas and these days my interest is going into cinematic storyboarding. I haven't updated my drawings in a few months but I'm still gathering my most recent work into something vageul coherent and here are two poems that were directly written using the cut-ups and fold-in technique http://homepage.mac.com/wmmvrrvrrmm/gloomcircumstances.html
http://homepage.mac.com/wmmvrrvrrmm/fragmentsoflosttomorrow.html
I think that the rest of the poems in my collection that I wrote did incorporate some aspects of the technique but I don't recall that much at present. But I hope that they can be appreciated anyway. Best wishes." Dominic.http://homepage.mac.com/wmmvrrvrrmm/index.html

Virus and spams senders:

Since recently (May), I have received a number of fake mails, spams, etc. from senders usurpating my identity. I have consulted my server interpc about them and sent them some samples. This had already hapenned last year, and I had put on line the detail and source of the spams. I do not know if there was a relation of cause and effect, but the sending of the spams sent with my emails stopped. As a result, I am starting those pages again: http://www.interpc.fr/mapage/westernlands/virussenders26.html , http://www.interpc.fr/mapage/westernlands/virussenders27.html, http://www.interpc.fr/mapage/westernlands/virussenders28.html, http://www.interpc.fr/mapage/westernlands/virussenders29.html

New pages on line:

In Interzone sites :

Paul O'Donovan's new illustrations : "Jack Kerouac" http://www.geocities.com/reportersredacteursdinterzone2/odonovan39.html, "The Tonto Woman ~ further travels ", " "Chavez Shangri - La Terrace ~Not fade away " & "Ship of the Fools ~part 2" at http://www.geocities.com/reportersredacteursdinterzone2/odonovan40.html and " On Shakey Ground We Stand" at http://www.geocities.com/reportersredacteursdinterzone2/odonovan41.html

Interzone Ring:

http://www.interpc.fr/mapage/westernlands/Interzone-links.html

Information on Interzone:

http://www.interpc.fr/mapage/westernlands/infzone.html

Interzone news and blogs :

http://www.myspace.com/interzonenews

Virus and spam senders: http://www.interpc.fr/mapage/westernlands/virussenders26.html , http://www.interpc.fr/mapage/westernlands/virussenders27.html, http://www.interpc.fr/mapage/westernlands/virussenders28.html, http://www.interpc.fr/mapage/westernlands/virussenders29.html

Reporters Rédacteurs d'Interzone

http://www.geocities.com/reportersredacteursdinterzone/

Reporters Rédacteurs d'Interzone II:

http://www.geocities.com/reportersredacteursdinterzone2

In the other Zoners' sites:

" live in London 1982" BRION GYSIN with Ramuntcho Matta

http://www.subrosa.net/online/main_dr_news_detail.php?AlbumID=52

.

Boa vista Atlantique Odyssée: on the way to La Rochelle

http://boavistaodyssee.free.fr/

Vasha Dadaja

"my magickal trip "

http://www.myspace.com/vashadadaja

Joe Ambrose on the ryan tubridy show

http://www.rte.ie/radio1/thetubridyshow/

podcasts

http://www.rte.ie/radio1/podcast/podcast_tubridy.xml

Shocker TV update :

rhapsody online

:

http://www.msplinks.com/MDFodHRwOi8vd3d3LnJoYXBzb2R5LmNvbS9zaG9ja2VydHYvc2VyaWFsZm9sa2NvbGxlY3Rpb25ncmluZGNvcmVicmVha2NvcmVzcGVlZGNvcmVhY2lkZm9sa3RhcGVtdXNpYw==




eMusic

:

http://www.msplinks.com/MDFodHRwOi8vd3d3LmVtdXNpYy5jb20vbGFiZWwvc2hvY2tlci10di1UdW5lQ29yZS1NUDMtRG93bmxvYWQvMTQ0ODc0Lmh0bWw=

Video of the Master Musicians of Joujouka building their Guest House:

http://www.youtube.com/watch?v=TaeQ_PCE-Lo

and

http://www.youtube.com/watch?v=z6kWHOqgtWk

The Whirling Dervish on CNN:

http://vids.myspace.com/index.cfm?fuseaction=vids.individual&videoid=2038681969

Kenji Siratori "Chromosome Murder" CDR

http://www.myspace.com/kenjisiratori

Optical Sound Newsletter:

http://www.optical-sound.com/

Details in

Interzone news

http://www.myspace.com/interzonenews

Liliane Caumont's galleries:

http://www.caumont.com

Howl 50th anniversary :

http://www.myspace.com/interzonenews

The Wmmvrrvrrmm Place!

http://homepage.mac.com/wmmvrrvrrmm/gloomcircumstances.html

http://homepage.mac.com/wmmvrrvrrmm/fragmentsoflosttomorrow.html

,

http://homepage.mac.com/wmmvrrvrrmm/index.html

This report is on line at

http://www.inter-zone.org/reportjune07.html

The French version will be on line soon at

http://www.inter-zone.org/reportjune07fr.html

You can access the Zone's info between 2 reports in Interzone News and blogs at

http://blog.myspace.com/interzonenews

Wishing you a better summer than the French rainy one we are having here.

Catalogue

Galleries - Galeries

Inter-zone.org

=

The Western Lands

+

Interzone Academy

+

Interzone Creations

+

Interzone Library

+

Reporters-Rédacteurs d'Interzone

+

La sémantique générale pour tous

+

B D d'Interzone

-

Interzone news