cdcdcdcdcd

Interzone report of March 21st 1999

cdcdcdcdcd

Hi all,

Hope you are all well

J

Here are the new developments since last month :

1.The Interzone Coffee House

: HI

http://clubs.yahoo.com/clubs/theinterzonecoffeehouse is going on fine. Many people have been writing there, and the atmosphere is really nice. The mail is huge (more than 200 E-mails) . Some poems have been gathered at : http://www.geocities.com/Athens/Crete/9445/coffee-house.html

The members got the Yahoo pager system, which allows to contact the others when they are connected, like ICQ. We now are 59 there.

Some are interested in sharing about Burroughs and Gysin devices. The club Nova Mob

http://clubs.yahoo.com/clubs/novamob

made by El Gorgo is taking in charge the scientific aspect : (Jakes proposes to studdy the synchronicities through numbers). Have a look at both clubs . They got a life of their own.

2. Research in Interzone Academy :

G
On general semantics
:

The exchanges with the French society here have not led to anything constructive during this month. I proposed some practicle work of teaching and translation to get to a more democratic spreading, but due to the lack of volunteers, it does not seem possible to go more ahead with them.

In another way, I have got some interesting contacts in this domain with students in philosophy in Poitiers, and a philosophic cafe, and with Roger Lanteri, who teaches GS in Nice under a humanist approach : http://www.interpc.fr/mapage/westernlands/roger1.html

I'm gonna see if the Uni in Poitiers could be interested in this : GS is not recognized here, as the first book of Korzybski has been published in October :

"La Carte et le Territoire"

:

http://www.geocities.com/Athens/Crete/9445/Olivet-titre.html

, published at the Editions de l'Eclat. My translation of Korzybski's seminar is the other one available in French. As a result, some friends and I are thinking about directions of work with other French speaking countries.

See also : "Le point sur le groupe B 23" (1984-1987) : an experiment of teaching GS in a psychiatric hospital":

http://www.geocities.com/Athens/Crete/9445/obj1.html

b. Desintoxication cure :

h

I met a doc of Medecin du Monde here, an association of "French doctors" who takes care of homeless people in France, and they are not interested in anything different from what they do. Though he gave some contacts which I'm gonna meet next week, a street educator, and sent him a file on the project of cure and post-cure. It might interest people susceptible to give credits for it, if one is interested. So, let's wait and see.

About the files Dr Carlsson sent from Sweden, see :
A double-blind cross-over study:apomorphine/placebo in chronic alcoholics :
http://www.geocities.com/Athens/Crete/9445/apo-double-blind.html
by C. Carlsson, P. R. Johansson, B. Gullbergt Nordhemspolikliniken, Gothenburg, Sweden
A Comparison of the Effects of Propranolol and Diazepam in Alcoholics
http://www.geocities.com/Athens/Crete/9445/british.html
by Carl Carlsson M.D. and Bengt-Goran Fasth Ph.D.
More to come soon on the subject : I have not scanned the whole files yet.
3. Place for academy :

J

Chantal, the friend here who proposes we take a place together, and I , are gonna visit one hotel and one inn next wednesday, and are studdying a formula to make it financially. We are in touch with an agent who only sells commercial buildings, and is aware of what is for sale in Poitiers and suburbs. So I'm gonna tell him more about what we look for when we meet him, and he might then be of a good advise.

Though the first step is to find a suitable place at a low price, so it might take some times. We might first rent the place for some months to see if we are able to make it financially without taking any engagement, and to put some money aside to buy something then.

So I keep on in this direction too and let you know what happens.

Christian from the group

Cimagil

says that we should put up in France a William Burroughs' fundation , as he is not known enough here and nothing has been done in this sense, in the frame of which we could get subventions. What do you think about it so far ? I'm gonna write to James Grauerholz about it and let you know what he thinks.

4. Dreamachine making :

N

At the moment, I'm seeing in Poitiers to make exhibitions and lectures in bars. One is foresseen in May on the dreamachine, with the building up of one with people . So at the moment I'm prepairing the whole thing, centered about Brion Gysin and the dreamachine. Any idea, info, document, etc., welcome

J .

Emmaus here sells 78 rpm record-players for $ 20 each here, and it still is easy to find. Vincent, the Zoner from Poitiers, is also watching there

J

Some interesting URL on the Dreamachine : buy some at :

http://www.davidwoodard.com/

, programs to download for alpha waves and others:

http://www.cerebrex.com

and other devices (3 D glasses, etc.) at

http://www.qualixdirect.com/html/crystal2.htm

5. CD making :

UO

a) Several new things from this side : First Paul

paul.sinclair@autotrader.co.uk

has proposed during the lattest chat appointment to press the musics of Interzone for $ 2 for a CD : "CDs cost £1 each no matter how many you buy (1 or 100) , if I did purchase 100 i could probably get a small discount though."
He suggest mp3 as a format s you can get cd quality audio at about 1MB per minutes worth. I can then easily convert this to Cdaudio. I forwarded the info to the group of musicians, and then Foe said that he can have them for 75 cents in Las Vegas with a minimum of 1000 . At the moment, Chadi is watching in Lebanon and might have a cheaper price to propose.

Several of you are interested and have musics to send.

- For gathering them , Steve

sray@EAST.ISI.EDU

has a 80Megs of space to store them.and has just created a password-protected area for uploading mp3 files. He writes : " Izzy, please feel free to pass on this username and password for ftp'ing mp3 files onto ftp.lotsarock.com: username: mp3 password: interzone

That account has rights to upload files, list the directory contents, and download the files. It doesn't have rights to delete anything. When a user signs on with that username, they're automatically put into the \mp3 directory. People can start using this right away.
Also, if everyone is in agreement, I can (but don't have to) make a page for the mp3's that describes them, so that other "surfers" can find out about the group and listen to maybe 30-second samples from some of the songs. I'd also provide an email address for ordering a copy of the CD. This could be something like "

interzone@lotsarock.com"

, and all mail sent to it could get forwarded to Izzy and Paul (or whomever).
Just trying to lend a hand, and make a contribution. Let me know what you think. Thanks.
Steve Ray

www.lotsarock.com

.

- Rod

chocktaw@teleport.com

writes : " My site should be a portal for audio and video next week. Putting together deals to orginate programing off of my server. Go to my site and go to the "sitemap" click on the "strategies" icon and it will give you the concept paper on my new cyber channel. If you know of anyone in Europe that would like their programs or programming or audio streamed here let me know:

http://www.movierent.com

. All the best, Rod

So we got space to put the audio files: see with Paul, Steve and Rod

- Ramuntcho says he has a producer who might be interested if we got relevant recordings to propose.

b) The French group Cimagil :

http://www.interpc.fr/mapage/westernlands/cimagil.html

(a gang of buddies in Poitiers) has just had a CD pressed with their musics : you can hear 2 songs there, and buy it if you want to.

They are gonna give a concert in the Victor-Victoria soon.

6. Comix :

C

A new comix to be published soon "Le Taxidermiste" by José Altimiras and François Darnaudet :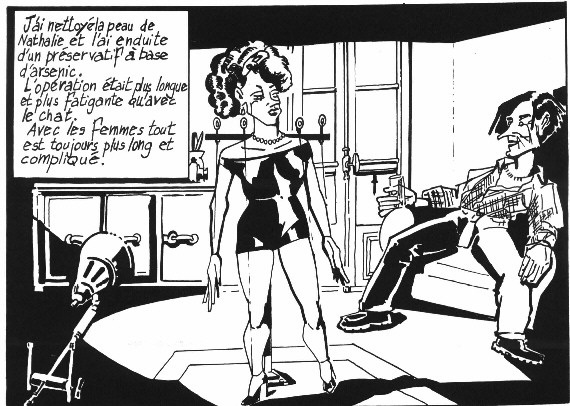 You can join him through E-mail at :

baudron@interpc.fr

or

barbier@lemel.fr

who will transmit.

7. The Interzone anthology :

M

As for the CD, we are looking for the best prices for a printing . Chadi is looking in Lebanon about it and will let us know. The aims of such a printing, as for the CD pressing are :
to put Interzone writings at all the Zoner's disposal for a cheap price. We do not look for a world wide diffusion, just to a CD making and books publishing in the frame of the Zone, which does not require any official organization. So we can press and publish according to the demand of the Zoners, at a small scale, so we can start with a minimum cost.
To try to make some money with them as well , in the following way : One printer in US :
spcoop@netline.net
could make a hundred pages book with collages and illustrations for $ 1000 for 1000 copies, which gives a copy at $1. (I tried to jkoin him, but the mail came back, so he might not be working anymore).
Our anthology has at the moment 7 tomes of about 100 pages each, which makes $ 7 for the whole : 7 books of hundred pages.
If 100 Zoners buy ten each, it cost them $ 70. They can sell for $10 each, which brings 700 $. So the whole, without the mail fees, would bring : $ 700 - 70 = $ 630 .
Then from this, they can give 10 % of what they have been earning to the Zone to invest then into another common project. : If each Zoner then gives $ 6 to the Zone, then we got $ 600 to start something else.
The idea is first bring money to the people, and then, to the Zone. See what you think.
8. New pages and sites :
There is a whole bunch of new URLs from the new Zoners from the Interzone Coffee House, which I have not put yet in the Interzone Ring page :
http://www.interpc.fr/mapage/westernlands/Interzone-links.html
" deadjoe's hoard of lyrical doodoo ":
http://members.theglobe.com/deadjoe/
Many new writings in
Snappy
's page :
http://www.geocities.com/SoHo/Studios/9266/
Terata new home-page
http://userwww.service.emory.edu/~critche/texts.html
ZedsDeadBaby :
michaelgoolsby@geocities.com
http://profiles.yahoo.com/ZedsDeadBaby
ElGorgo :
frankenmac@earthlink.net
http://members.tripod.com/~horrible_planet/6FeetMonster/
Chiki
chiki@t3.rim.or.jp
*Raw Info Central : On-line Community for Creative Individuals in the world*

http://www.rawinfo.to/
, is gonna make a new site. He writes : " i'm interested in how informatios are flowing (flying) on the globe among human brain, media and our environment.. and as a first step, i want to know which information people have now and would newly come into their brain at a certain day. so, on newsite, i'm gonna try to track informations which would come into myself and update them."
If you want to be part of the experiment, you can send him your own info.
In the Interzone Academy and the Western Lands :
Zone's news :

Interzone meets outside of cyberspace : Following to Gary's account of his visit here last year, "Welcome to Interzone" http://web.ukonline.co.uk/gary.leeming/zone/meeting.htm you can find my report at http://www.geocities.com/Athens/Crete/9445/gary.html

Zoner's poems and texts at

http://www.geocities.com/Athens/Crete/9445/coffee-house.html

Medical research
:

Psychological training to increase the defenses of the organism : http://www.geocities.com/Athens/Crete/9445/psychol.html

Les six exercices fondamentaux de NAROPA

http://www.geocities.com/Athens/Crete/9445/naropa.html

Protocole of cure and post-cure of desintoxication

http://www.geocities.com/Athens/Crete/9445/

A Comparison of the Effects of Propranolol and Diazepam in Alcoholics

http://www.geocities.com/Athens/Crete/9445/british.html

by Carl Carlsson M.D. and Bengt-Goran Fasth Ph.D.

c) Non-ordinary levels of reality :

jakearoo42 : The Quantum Writing Experiment http://www.interpc.fr/mapage/westernlands/quantum.html

d) General Semantics :

* Alfred Korzybski : "Séminaire de Sémantique Générale à Olivet College - 1937" http://www.geocities.com/Athens/Crete/9445/Olivet-titre.html

* "Le point sur le groupe B 23" (1984-1987) : an experiment of teaching GS in a psychiatric hospital": http://www.geocities.com/Athens/Crete/9445/obj1.html

*

ROGER LANTERI

:

AU SUJET DU STRUCTUREL DIFFERENTIEL

http://www.interpc.fr/mapage/westernlands/roger1.html

e) Human rights :

Vincent : "Droits de l'Homme" : http://www.geocities.com/Athens/Crete/9445/molloy1.html

9. The Zone's services :

* In case of problem, you can write to Jim, Interzone doc, who provides a service of free councelling : Interzone doc

the_doc27@hotmail.com

* Common E-mail : Interzone23 :

interzone23@hotmail.com

;

* For the chat appointment of March 23rd 99 see the Interzone chats in gay.com, mIRC and in Dan's site at

http://www.interpc.fr/mapage/westernlands/Chat.html

; in February , most of you used the chat-room of Interzone Coffee House :

http://clubs.yahoo.com/clubs/theinterzonecoffeehouse

.

- Chicki's Raw Info chat :

http://www.rawinfo.to/chat.html

- mIRC : #Interzone : Random US DALnet server

- For the time of your chat appointments : see the worldclock :

http://www.interpc.fr/mapage/westernlands/worldclock2.html

and Chiki's time zone :

http://www.burbs.com/fcgi-bin/tzconvert.fcgi

.

- My ICQ # is 3146693

* For the news after this report, refer to

http://www.interpc.fr/mapage/westernlands/News3.html

* This report will be on the web first at

http://www.interpc.fr/mapage/westernlands/report-march-99.html

and after some times at

http://web.ukonline.co.uk/gary.leeming/zone/report-march-99.htm
Much thanks for your involvement, participation and support.

Have a nice spring .

Love

Izzy
ghghghghghghghghghgh
You can find the previous reports at :