I

nterzone report of January 2007
French version
Previous report of December 2006
Next report of february-march 2007
For the new comers: The reports of Interzone contain the monthly activities of the members of the group in different domains. As we are about 400 people in the world, all different, the whole might appear at first sight as an incongruous medley. For more information on the subjects developed here, please refer to the previous reports since 1997 in the page
Information on Interzone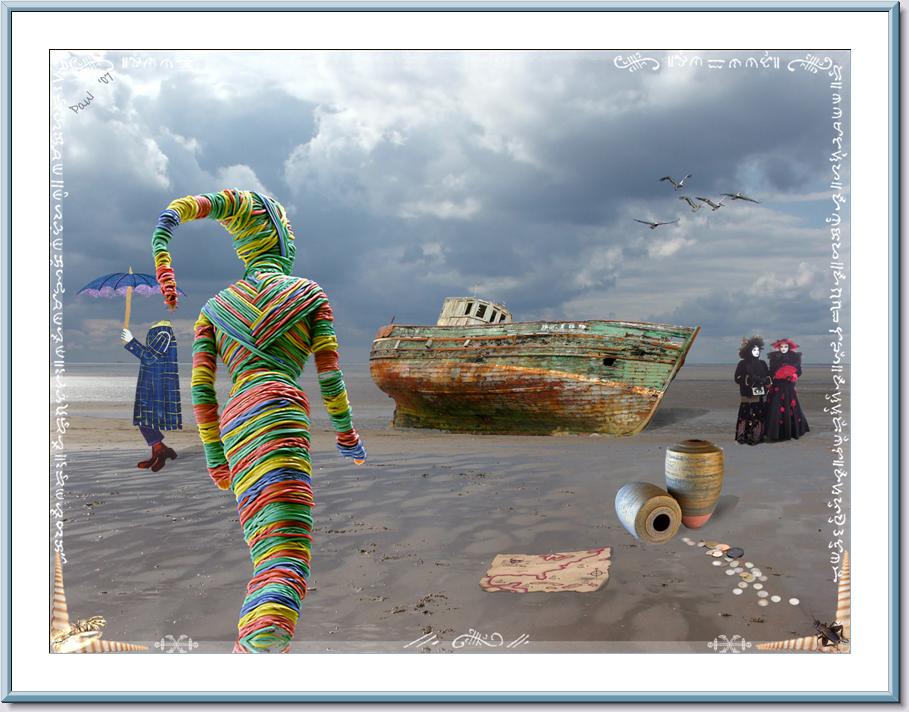 "Ship of Fools"

by

Paul O'Donovan

H

i all,

So we are in 2007. This thick report will contains a number of illustrations, due to the sendings I have received.

Best wishes 2007:

I transmit here the best wishes for 2007 from : (click on the pics to get to their sites)
Stephane Barron

MEILLEURS VOEUX POUR 2007

avec plein d'bonnes choz

mino d.c

GALERIE DIDIER DEVILLEZ

Meilleurs voeux pour une année 2007 pleine de

couleurs

Poussière de Pixel - Yannick Chosse

45 rue de la Maison neuve - 85420 Oulmes
Tel. 02 51 50 47 33
0873 09 14 36

(Prix d'un appel local)
Gsm 06 83 36 58 02

www.photographies.marais.poitevin.fr
Destroy all rational thoughts : Celebrating william burroughs and brion gysin in ireland:
The DVD made by the Master Musicians of Joujouka, Frank Rynne and Joe Ambrose is awesome (to my taste) . You can get it for £12.99 from Screed Edge

http://screenedge.com/shop/search.asp?search=Title_Artist&search=Keywords&var=burroughs#

See Joe Ambrose's article on it at

http://www.joeambrose.net/whatsup?wuID=16

Celebrating William Burroughs and Brion Gysin in Ireland

Featuring: William Burroughs, Brion Gysin, Antony Balch, Moroccan Trance, Dreamachines, Master Musicians of Joujouka, Joe Ambrose, Hamri, Bill Laswell, Baby Snakes, Shabba Ranks, Brian Downey, Hakim Bey,

Destroy All Rational Thought features:

- one of the last interviews William Burroughs gave
- previously unseen vintage footage of Burroughs in his prime during the Fifties and early Sixties.
- The Master Musicians of Joujouka collaborating with avant garde Dublin musicians, veterans of the Tangier Beat Scene, and cutting edge writers.
- music from Bill Laswell, The Baby Snakes, plus contributions from Ira Cohen, Hakim Bey, Joe Ambrose, Antony Balch, Phauss, Felicity Mason, Daniel Figgis, Frank Rynne, Terry Wilson, Brian Downey (Thin Lizzy), Ramuntcho Matta, and Agnes Bernelle.
Additional features:

- Director's Interview discussing Burroughs, Joujouka, and Gysin.
- William Burroughs Don't Play Guitar (exclusive mix) by Islamic Diggers.
- Slide show featuring paintings by William Burroughs and Brion Gysin, plus texts by Burroughs, Terry Wilson, Brion Gysin, Ira Cohen, Anne Waldeman, Bill Laswell, Frank Rynne, Joe Ambrose.

Described by avant dance magazine The Wire as infamous, Destroy All Rational Thought is directed by Joe Ambrose and Frank Rynne who organized the Here to Go Show in Dublin. The movie documents that festival.

This DVD is a document on the people who have been part of the Burroughs-Gysin-Joujouka adventures since years. Very beautiful post-cards as well.

In Screen Edge, you can get free films at

http://rameses.com/screenedge/film.htm

, among them "Bill and Tony" and "Dr Benway" .

Master Musicians of Joujouka

:


http://www.myspace.com/mastermusiciansofjoujouka

Boujeloud : latest CD, buy at http://www.joujouka.net/
jack sargent's article from Fortean Times on MySpace : copy below link into your browser for article on latest Master Musicians of Joujouka CD Boujeloud and the Rites of Pan http://blog.myspace.com/index.cfm?fuseaction=blog.view&friendID=45082435&blogID=208345583&MyToken=730a2350-c9f7-4302-810a-904800667b02

Joe Ambrose: The Black Michael Jackson:

Also by Joe Ambrose, see in Outside Left magazine "The Black Michael Jackson"

http://www.outsideleft.com/main.php?updateID=746

Dylan: On the road again:

I have some news to transmit to the Zone from Dylan, who has left United Kingdom some months ago with his wife and kids to look for a place to settle in France : presently many English people are leaving UK for France, as they cannot get a house in their country due to the high price of real estate, and to the increase of unemployment for English people since immigrants from Eastern Europe work for prices 4 times inferior.

At the moment, Dylan and his family are in a commune in the Gers, run by Germans since 12 years. He finds the experience interesting and will write a feed back about it for the Zone.

Economy:

Whistleblowing: Racket with Télé 2:

Télé 2 is a French telephone operator which I have been using since 2 years. Recently, I stated my bills were double than usually and called them for clarifications. It came out that they charge me for a service which I have never asked for nor agreed for nor signed anything about, nor received any documentof information about.

It required some days before I understood what was going on, because getting in touch with an operator was kind of difficult (long time wait with silly music), so I decided to unsubscribe, but then the steps to unsubscribed revealed themselves a real brainstorm.

After looking for info on them

http://www.linternaute.com/guides/fiche/543/2/tele_2.html

,

http://www.infos-du-net.com/forum/11021-8-tele2-cauchemar-continue

,

http://www.arnaques.be/page.php?ID=1790&crioc=O&page=

,

http://www.zonehd.net/forum/viewtopic.php?id=803

,

http://www.toluna.com/EX_EMPLOYEE_DE_TELE2-av-882506.html?sestoluna=f9ptspch8ejmbin1t6on9il0f7

, it comes out they send bills to people on services which they have not required, and then ask for money when they want to leave. Pure racket !

Then I called France Télécom, who confirmed the common use of such technics from a number of telephone operators, and interrupted the Télé 2 services. I have recorded the whole conversations, and if Tele 2 keeps on requesting undue bills, I shall dedicate them a special web page.

The problem in France is that we have no possibility to make class actions. The government has promissed to allow them, but the law project about it has just been rejefcted: See Le Monde: "Le gouvernement enterre le projet de "class action" à la française"

http://www.geocities.com/reportersredacteursdinterzone/classactions.html

. As a result, the crooks can go on swindling without risk to be sued by organizations of clients.

Articles in PDF :

The latest articles published in Reporters Rédacteurs d'Interzone are now available in pdf format :

9. "Infogérance et dérégulation des services publics: pas vu pas pris, pris pendu":

http://www.geocities.com/reportersredacteursdinterzone/econona11.pdf

More doc has been added on Atos Origin:

A few current Atos examples http://www.geocities.com/reportersredacteursdinterzone/AfewcurrentAtosexamples.doc

Med2 Service closures

http://www.geocities.com/reportersredacteursdinterzone/med2Serviceclosures.pdf

Atos promotion pamphlet

http://www.geocities.com/reportersredacteursdinterzone/Atospromotionpamphlet.pdf

10. Les fiches de poste: des cartes non similaires aux territoires

http://www.geocities.com/reportersredacteursdinterzone/infi13.pdf

11. Dénonciations calomnieuses et méthodes mafieuses: quand les entreprises et les services publics deviennent des zones de non-droit

http://www.geocities.com/reportersredacteursdinterzone/infi14.pdf

Books:

Stéphan BARRON

: "Toucher l'espace, poétique de l'Art Planétaire" is published by L'Harmattan, November 2006:
ISBN : 2-296-01476-3
Prix / price : 33 euros

The first part of the book describes artworks that use planet Earth in its geographic entirety as an art medium. It describes the emergence of this art form which developed over the last century and whose importance grew with that of telecommunication technologies.
Globalisation and ecological issues are essential themes of this art form.

In the second part of the book, 25 artworks or projects are featured, recounting 23 years of the author's own creative work. 42 colour photographs and 17 black and white pictures illustrate the text.

Earth Art takes the Earth as its raw material for emotional and introspective expression, using telecommunication technologies to highlight distance and geographical space. This art form explores the emotions and poetry of distance, and reflects on globalisation, and its human and ecological consequences; Stéphan Barron's adventure awakens and alerts us to a broader conscience of our planet.



Edgar Morin

http://www.ehess.fr/centres/cetsah/CV/morin.html

Le FRUC artcenter :

http://www.fruc.biz

Oeuvres d'art de Stéphan Barron sur le web/netart : com_post :

http://www.com-post.org

fusil :

http://www.fusil.biz

Pédagogie:

http://stephan.barron.free.fr



Stéphan Barron:

http://www.riendespecial.com

(art, édition et production)

http://www.technoromanticism.com

(art, théorie)

http://www.harmattan.fr



Kenji Siratori :
http://www.myspace.com/kenjisiratori
:

A new book: "nonexistence"
"nonexistence" paperback
Kenji Siratori "nonexistence" paperback

Paperback: 172 pages
Publisher: BlazeVOX [books]
ISBN: 1934289086

"I am disillusioned at the paradise apparatus of the human body pill and with this disillusion we're plunged into Kenji Siratori's latest literary cataclysm. To call this "the new book", or compare it with other books is to do it a massive disservice and to cripple other books. This is a book in the way Burroughs' "Naked Lunch" was a book, or Stravinsky's "Rite of Spring" was a piece of music. "non-existence" is a revolutionary plunge through intense linguistic mutation that rapes the surrealism of Jarry and decadence of Huysmans along the way, then fuses the corpses with the conceptual meta-fear of Ballard's "Atrocity Exhibition" and the utter gene-blurred futuro-rants of Steve Aylett. It challenges you to leave all you understand and trust at the pod-door and be collapsed then expanded by Siratori's hyper-speed vision. This isn't your father's "sci-fi". This is cut-up Gyson that takes the edict of "destroy all rational thought" over the edge into a realm of brutality and experimentation previously unknown. This is the "new" that you never knew was there, and, like all things so totally new, it forces us to rethink our idea of "novel", "life" and, in the end, even "Art". Welcome to "non-existence".
- Jared Louche of CHEMLAB

myspace special price: US$12 (plus postage US$6)
UK: 9.2 pond (with postage)
Euro: 14 euro (with postage)
Videos:

Anthony Rousseau:

http://anthonyrousseau.com

His work can be seen during February at :

"

Le Cube

",

Espace Lounge

, Issy-les-moulineaux, France, February 2007. Show of the videos :

Je danse comme un papillon

Bodyparts





19 ème Festival Premiers Plans

- Angers, France, 19-28 Jan 2007. Show of videos :

Sublime Minimal Sign (SMS)

(coprod.Videozarts 2006)


Climax

(coprod.Videozarts 2006)

IN/EX

(coprod.Videozarts 2006)

"

Sous la douche

", broadcast on visual arts of the Wide West , co-production Cappricci Films & Vidéozarts, Nantes, France. 09 jan. 2007. Multidiffusion of the monobande "Climax" on the local channels : Télénantes, TV Rennes ...

Galleries:

New illustrations : "Ship of Fools" &

"WSB January Rune"

http://www.geocities.com/reportersredacteursdinterzone/odonovan35.html

Yannick Chosse:

A number of new panoramas 360°

The Marais Poitevin:

http://www.photographies.marais.poitevin.fr/panorama-marais-poitevin.htm

La Rochelle:

http://www.photographies.marais.poitevin.fr/La-Rochelle-marais-poitevin.htm

Le Joshua:

http://www.photographies.marais.poitevin.fr/Le-Joshua-marais-poitevin.htm

Architecture romane:

http://www.photographies.marais.poitevin.fr/architecture-romane-marais-poitevin.htm

Galerie Didier Devillez:

Gisèle FREUND portraits (1935-1975) Expo from Jan 12 to March 3 2007. 53, rue Emmanuel Van Driessche • 1050 Bruxelles (Belgique) • +32(0)475 931 935 devillez@skynet.be • http://www.galeriedidierdevillez.be

The lazarus corporation news & update:

www.lazaruscorporation.co.uk and http://blog.myspace.com/interzonenews

Optical Sound:

Music:

Kenji Siratori :

Many new productions this month again:

http://www.myspace.com/kenjisiratori

Blogs:

Yann Vogel:

photocast de Tarzhnoz & Blizik - émission N°2

Hi !

With iPhoto I have published a photocast which I want to share with you. To subscribe, you just have to click on the following link:

http://photocast.mac.com/adanig/iPhoto/tarzhnoz-hag-he-ziegezh/index.rss

If you have iPhoto 6, this photocast will appear in your source list of iPhoto and you can use the photo which compôse it just as any other photo from your library (in the diaporamas, on your desktop , in the books of personalized photos, etc.) Also when you are connected to Internet, iPhoto will automaticly update this photocast to allow you to see the pics recently added.

(This requires Mac OS X 10.4 or previous)

If you do not have iPhoto 6, you can get the photos of this photocast in Safari RSS or in any other RSS compatible with a Mac, Windows or else : you just have to click on the link above or copy it in the frame of URL of your RSS, then put a signal on this URL if you want to see the picture again later. To know more about iPhoto 6, visit the site www.apple.com/fr/iphoto.

This photocast will be updated every week.

Podcast:

http://web.mac.com/adanig/iWeb/SkinBod

Sites:

The Western Lands:

I have remade several pages of the site :

Front page of the Westernlands:

http://www.interpc.fr/mapage/westernlands/

. It contains a chat room at the bottom of the page.

Interzone Ring:

http://www.interpc.fr/mapage/westernlands/Interzone-links.html

which has been updated,

Vasha's gallery (5):

http://www.interpc.fr/mapage/westernlands/vasha7.html

Information on Interzone:

http://www.interpc.fr/mapage/westernlands/infzone.html

,

In Interzone Creations: Welcome / Bienvenue :

http://www.inter-zone.org/wel.html

Manifestos:

http://www.inter-zone.org/manifesto.html

Daniel gualda:

Musica, Dmv, fotos :


http://www.esnips.com/web/conlospibes

"concurso de critica de fotologs"


http://www.loscachilos.com.ar/?q=taxonomy/term/8

the 111 experience of J'lahn


by Jim Ward-Nichols Sites updated :

http://www.the111experience.org

http://www.triple1.org

New pages on line:

In Interzone sites :

9. "Infogérance et dérégulation des services publics: pas vu pas pris, pris pendu":

http://www.geocities.com/reportersredacteursdinterzone/econona11.pdf

A few current Atos examples

http://www.geocities.com/reportersredacteursdinterzone/AfewcurrentAtosexamples.doc

Med2 Service closures

http://www.geocities.com/reportersredacteursdinterzone/med2Serviceclosures.pdf

Atos promotion pamphlet

http://www.geocities.com/reportersredacteursdinterzone/Atospromotionpamphlet.pdf

10. Les fiches de poste: des cartes non similaires aux territoires

http://www.geocities.com/reportersredacteursdinterzone/infi13.pdf

11. Dénonciations calomnieuses et méthodes mafieuses: quand les entreprises et les services publics deviennent des zones de non-droit

http://www.geocities.com/reportersredacteursdinterzone/infi14.pdf

Le Monde: "Le gouvernement enterre le projet de "class action" à la française"

http://www.geocities.com/reportersredacteursdinterzone/classactions.html

Paul O'Donovan:

"Ship of Fools" & "WSB January Rune"

http://www.geocities.com/reportersredacteursdinterzone/odonovan35.html

Front page of the Westernlands:

http://www.interpc.fr/mapage/westernlands/

Interzone Ring:

http://www.interpc.fr/mapage/westernlands/Interzone-links.html

Vasha's gallery (5):

http://www.interpc.fr/mapage/westernlands/vasha7.html

Information on Interzone:

http://www.interpc.fr/mapage/westernlands/infzone.html

Welcome / Bienvenue :

http://www.inter-zone.org/wel.html

Manifestos:

http://www.inter-zone.org/manifesto.html

Interzone news and blogs :

http://www.myspace.com/interzonenews

Bienvenue à Interzone http://isabellebaudron.blog.lemonde.fr/http://isabellebaudron.blog.lemonde.fr/

Reporters Rédacteurs d'Interzone http://www.geocities.com/reportersredacteursdinterzone/

In the other Zoners' sites:

Joe Ambrose: "Destroy all rational thoughts DVD":

http://www.joeambrose.net/whatsup?wuID=16

"The Black Michael Jackson"

http://www.outsideleft.com/main.php?updateID=746

q

Master Musicians of Joujouka:

http://www.myspace.com/mastermusiciansofjoujouka

Stéphan Barron:

http://www.riendespecial.com

(art, édition et production)

http://www.technoromanticism.com

(art, théorie)

http://www.harmattan.fr

Le FRUC artcenter :

http://www.fruc.biz

Oeuvres d'art de Stéphan Barron sur le web/netart : com_post :

http://www.com-post.org

fusil :

http://www.fusil.biz

Pédagogie:

http://stephan.barron.free.fr

Yann Vogel's photocast:

http://photocast.mac.com/adanig/iPhoto/tarzhnoz-hag-he-ziegezh/index.rss

Podcast:

http://web.mac.com/adanig/iWeb/SkinBod

Anthony Rousseau:

http://anthonyrousseau.com

"

Le Cube

",

Espace Lounge

Je danse comme un papillon

Bodyparts

19 ème Festival Premiers Plans

-

Sublime Minimal Sign (SMS)

Climax

IN/EX


"

Sous la douche

Daniel gualda:

Musica, Dmv, fotos :

http://www.esnips.com/web/conlospibes

"concurso de critica de fotologs"


http://www.loscachilos.com.ar/?q=taxonomy/term/8

the 111 experience of J'lahn

by Jim Ward-Nichols Sites updated :

http://www.the111experience.org

http://www.triple1.org

Yannick Chosse: The Marais Poitevin: http://www.photographies.marais.poitevin.fr/panorama-marais-poitevin.htm La Rochelle: http://www.photographies.marais.poitevin.fr/La-Rochelle-marais-poitevin.htm Le Joshua: http://www.photographies.marais.poitevin.fr/Le-Joshua-marais-poitevin.htm Architecture romane: http://www.photographies.marais.poitevin.fr/architecture-romane-marais-poitevin.htm

Galerie Didier Devillez: Gisèle FREUND portraits

http://www.galeriedidierdevillez.be

The lazarus corporation news & update: www.lazaruscorporation.co.uk and http://blog.myspace.com/interzonenews

Optical Sound: http://www.optical-sound.com/

Kenji Siratori: "nonexistence"

http://www.myspace.com/kenjisiratori

:

This report is on line at

http://www.inter-zone.org/reportnov07.html

The French version will be on line soon at

http://www.inter-zone.org/reportjan07fr.html

You can access the Zone's info between 2 reports in Interzone News and blogs at

http://blog.myspace.com/interzonenews

All the best for 2007. Let's keep on rocking in the free Zone !

Catalogue

Galleries - Galeries

Inter-zone.org

=

The Western Lands

+

Interzone Academy

+

Interzone Creations

+

Interzone Library

+

Reporters-Rédacteurs d'Interzone

+

La sémantique générale pour tous

+

B D d'Interzone

-

Interzone news