</P>
Interzone report of July 2006
Next report of August and September 2006
For the new comers: The reports of Interzone contain the monthly activities of the members of the group in different domains. As we are about 400 people in the world, all different, the whole might appear at first sight as an incongruous medley. For more information on the subjects developed here, please refer to the previous reports since 1997 in the page
Information on Interzone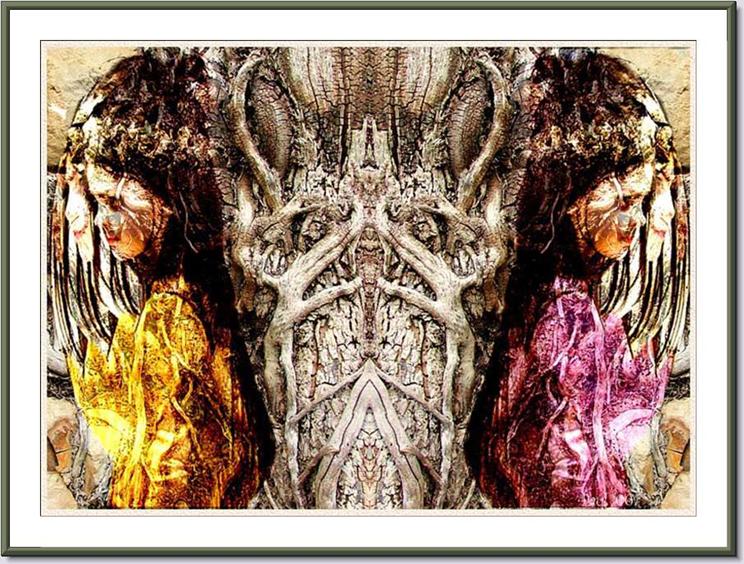 Paul O' Donovan: "Protection of tree study" (credit to Baud for the Roche tree image)
Hi all,
Interzone: 9 years:
August 2nd will be the 9th anniversary Burroughs flew away through invisible mornings, like wild horses over the hills (this is Charles Bukowski :-) (August 2ND 1997) And as a matter of fact, it's been nine years Interzone is existing !!!!!!!!!!!!!!!!!!
So many things done, so many exchanges between people spread all over the world ! A big thanks to the Zoners
I am proposing a tchat on this day. As Yahoo groups do not have chats anymore, we cannot use the Interzone Coffee House. Personnally, I have yahoo Messenger (isabelle.baudron@wanadoo.fr baudron_isabelle ) and MIRC. If you have none of them and want to be part of the chat, I suggest you download MIRC at www.mirc.com : it is easy to use, free, does not require subscription. Get connected to the server Undernet : EU, NO, Oslo. In the window which appears, enter the channel name "Interzone" and there you are. I'll be there in the evening, Paris time : for the time, you can go to the world clock at http://www.interpc.fr/mapage/westernlands/worldclock2.html and see which time is yours. You can send me a mail at isabelle.baudron@wanadoo.fr if you plan to be part of it.
"Quién es? William S. Burroughs, Revisited" :
Jeffrey Miller, director of Cadmus Editions, sends the following news: "Thought you'd like to know---for the Interzone Report---that Jorge Cuevas Cid has organized a symposium at the Autonomous University of Mexico (UNAM, FFyL, Colegio de letras modernas, D.F.), "¿Quién es? William S. Burroughs, Revisited", September 4-8, 2006, wherein various scholars will deliver papers and related arts activities will be presented."
Ricardo Mbarak in Beyrouth:
I am often mentioning Ricardo Mbarak, the Lebanese artist, in the reports as we exchange our respective informations in our respective lists. Ricardo is in Beyrouth and has stopped to administrate his list as his country is under the bombs and the people are cut from the rest of the world.
As I mentioned in the report of June, just before this war started, Ricardo had invited me to send contributions to the list Yasmin, on art and technology in the Mediterranean countries , and write about general semantic and Interzone. I sent three mails, the third one on how the adventure of Interzone could be useful to the members of Yasmin: you can find all the mails of this discussion at http://www.media.uoa.gr/yasmin/viewtopic.php?t=872
All I can say now about it is :
"Stop the war !!!!!!!"

Animation from william

Litterature:

- Joe Ambrose: Outsideleft: I met Johnny Cash by

Joe wrote a piece on johnny cash on

http://www.outsideleft.com/main.php?updateID=627

which you might enjoy reading.

- Catalogue of Interzone books: Tomes of the Time of the Naguals:

I have updated the catalogue of Interzone books http://www.inter-zone.org/catalbooks.html and added the links on the English part of "the Time of the Naguals" : The Time of the Nagual II: Interzone Anthology in English Tome 1: Articles http://www.geocities.com/interzonelibrary/contentsart.html

I.Manifestos / II.Making it happen / III.On William Burroughs / IV."Print those tee-shirts !!!!" / V.Non ordinary levels of reality / VI.Fiction 1 / VII.Fiction 2: Foe : The Assassins / VIII. Fiction 3 / IX.Bios

Tome 2: Poems: http://www.geocities.com/interzonelibrary/contentspoems.html Part 1 / Part 2 / Part 3 / Part 4 / Part 5 / Part 6 / Part 7 / Part 8 /

Blogs and podcasts :

Yann Vogel :

infos

on my PodCast vidéo : presently in the serie Brazil , orchids with the lyrics of the songs of the diaporama below the diaporama :

http://web.mac.com/adanig/iWeb/SkinBod/Skinbod/AB23340E-8688-4C01-BB90-E676B2CEB98A.html PodCast

(accueil / abonnement) :

Skinbod http://web.mac.com/adanig/iWeb/SkinBod

Alain Valet : Blog poésie et images : " Une sirène au sexe en croix croque un morceau d'éternité comme si la vie ne tenait qu'à un mot "
Some words to tell you I have created a blog dedicated to my texts, illustrations (collage, marble papers, Chinese ink, etc.) http://alainvalet.blogspot.com/

Videos :

Daniel en Argentina has made a new video you can see at http://rapidshare.de/files/27133309/readydivx.avi.html
Chris Jordan: SNOW in JULY :
Chris Jordan and his new piece is up at www.tubaexotica.com Please check out Chris and send us a sample of what you do. Chris Knutsen
Le marais poitevin en photos panoramiques:
Yannick Chosse has created a new site www.photographies.marais.poitevin.fr presenting a virtual visit in panoramic spheric photographs in 360° of the marais poitevin and its region Poussière de Pixel - Yannick Chosse www.poussieredepixel.info www.photographies.marais.poitevin.fr

ArtandLebanon@yahoogroups.com [Montréal, Vidéo, 73min.] From: Espace SD
"Espace SD" espacesd@espacesd.com : From Ricardo Mbarak: Sun Jul 16, 2006 4:01 am (PST) [Montreal, Video, 73min.] A screening of experimental videos Thursday 6th of July 2006 at 8.30pm In the frame of the project "Beyrouth-Montréal vue double" In collaboration with B-312 gallery (Montréal) Curators: Marthe Carrier, Frédéric Lavoie, and Jacko Restikian Entrance: 5 000 LL info@espacesd.com

Aperture : http://www.myspace.com/aperturemovie

Music :

* New Joujouka CD offer to MySpace friends

Dear Friends,
A limited number of advance copies of the new CD from The Master Musicians of Joujouka are available from our website www.joujouka.net.
The official release date is 12th September.
The CD, Boujeloud, is the first Cd which concentrates on the Rites of Pan. Pan is known as Boujeloud in Joujouka. Each year the half-goat, half-man diety is celebrated in the village. Boujeloud/Pan music a special suite of healing music played in the fertility ritual.
Boujeloud features 10 tracks 63 mins of music 12 page booklet with photographs and extensive notes. Produced and recorded over several years by Frank Rynne.
Go to the above address and click on store or go directly http://joujouka.net/4Store/
ALL PROFITS FROM DIRECT PURCHASES FROM OUR SITE GO DIRECTLY TO THE MUSICIANS!!!!!!!
Thank you for your support
MMOJ

* The Whirling Dervish have beeen busy giving a number of concerts : see

http://www.myspace.com/thewhirlingdervish * Mehdi in Concert :
Mehdi will be in concert on wednesday August 9th at the "Reservoir" 11rue de la forge royale 75011 Paris

. Starting 8 pm

in the frame of tremplin reservoir! Free concert !

http://www.myspace.com/mehdimusik * Peter Hall : New songs at http://www.myspace.com/thepeterhall (rap) * Matt: Sound collage with Burroughs' voice : http://www.crude.co.nz/sounds/crudecasts/burroughs.mp3

In My Space :

Binda 23's new pieces of music : http://www.myspace.com/datawhore

More musicians :

Ben Popp : http://www.myspace.com/benjaminpopp

aditi tahiti http://www.myspace.com/adititahiti3

Kim Novak http://www.myspace.com/kimnovakk

Natural Ryddim http://www.myspace.com/naturalryddim

Elusiver : http://www.myspace.com/elusiver

Janek Gwizdala http://www.myspace.com/janekgwizdalaproject

Stevenseverin http://www.myspace.com/stevenseverinmusic

Galleries:

New illustrations by Paul O'Donovan:

" Coiffure Sisters " and " Protection of tree study" (credit to Baud for the Roche tree image.) at http://www.interpc.fr/mapage/westernlands/odonovan30.html and "Morning Exodus from Roche Underworld" (elaboration on a scene by Baud) at http://www.interpc.fr/mapage/westernlands/odonovan31.html Dreamachines : Dear people,
Read my latest blog from the link below for this too make even more sense then needed. I need some people to make music for Dreamachine installation at Burningman. Hafler Trio turned me down on using their cd as I can't afford public performance rights, but their dreamachine video may be apart of the
installation (to help them sell it). So who do you know and who do you recommend asking? Be creative as I'll ask anyone. All they get is bragging rights but I think they're pretty fucking cool bragging rights. I'll do pictures and stuff for them too, and put links to they're website on my dreamachine info handout. Thanks, http://www.burningman.com/calendar/playa/view_entry.php?id=3973 http://profile.myspace.com/index.cfm?fuseaction=user.viewprofile&friendid=5607126 Zell Space

Beat resources:

jack

Kerouac ny site :

From patricia Elliott

http://www.sunflower.com/~pelliott/

:

A good site to visit for info http://kerouacsnewyork.tripod.com still too much. patricia

Economy:

Following the retranscriptions, last month, of the program on France Culture :

La rumeur du Monde France-Culture, le 24 juin 2006 by Jean-Claude Casanova and Jean Marie Colombani : " Le pouvoir et d'argent dans l'entreprise " (Power and money in enterprises) http://www.geocities.com/clemsnide23/econonarumeur7.html , here is an article from Le Monde July 18th : Un quart des sociétés américaines auraient triché sur les stock-options http://www.geocities.com/clemsnide23/econonarumeur8.html (A quarter of American societies may have cheated over the stock-options).

New pages on line:

Un quart des sociétés américaines auraient triché sur les stock-options http://www.geocities.com/clemsnide23/econonarumeur8.html

" Le pouvoir et d'argent dans l'entreprise " http://www.geocities.com/clemsnide23/econonarumeur7.html

Interzone news: http://www.myspace.com/interzonenews

Reporters Rédacteurs d'Interzone: http://www.geocities.com/clemsnide23/

Catalogue of Interzone books: Tomes of the Time of the Naguals: http://www.inter-zone.org/catalbooks.html The Time of the Nagual II

Interzone

Anthology in English Tome 1: Articles http://www.geocities.com/interzonelibrary/contentsart.html Tome 2: Poems http://www.geocities.com/interzonelibrary/contentspoems.html

Paul O'Donovan: " Coiffure Sisters " and " Protection of tree study" (credit to Baud for the Roche tree image.) at http://www.interpc.fr/mapage/westernlands/odonovan30.html and "Morning Exodus from Roche Underworld" (elaboration on a scene by Baud) http://www.interpc.fr/mapage/westernlands/odonovan31.html

Joe Ambrose: Outsideleft: I met Johnny Cash http://www.outsideleft.com/main.php?updateID=627

Yasmin topic on education: http://www.media.uoa.gr/yasmin/viewtopic.php?t=872

Yann Vogel : PodCast vidéo : http://web.mac.com/adanig/iWeb/SkinBod/Skinbod/AB23340E-8688-4C01-BB90-E676B2CEB98A.html PodCast (accueil / abonnement) : Skinbod http://web.mac.com/adanig/iWeb/SkinBod

Daniel Gualda's video : http://rapidshare.de/files/27133309/readydivx.avi.html

Chris Jordan: SNOW in JULY : www.tubaexotica.com

Yannick Chosse www.photographies.marais.poitevin.fr www.poussieredepixel.info www.photographies.marais.poitevin.fr

Aperture : http://www.myspace.com/aperturemovie

New Joujouka CD offer to MySpace friends http://joujouka.net/4Store/

Binda 23's new pieces of music : http://www.myspace.com/datawhore Mehdi in Concert : http://www.myspace.com/mehdimusik Peter Hall :

http://www.myspace.com/thepeterhall

Ben Popp : http://www.myspace.com/benjaminpopp

aditi tahiti http://www.myspace.com/adititahiti3

Kim Novak http://www.myspace.com/kimnovakk

Natural Ryddim http://www.myspace.com/naturalryddim

Elusiver : http://www.myspace.com/elusiver

Janek Gwizdala http://www.myspace.com/janekgwizdalaproject

Stevenseverin http://www.myspace.com/stevenseverinmusic

Zell Space's dreamachine site: http://www.burningman.com/calendar/playa/view_entry.php?id=3973 http://profile.myspace.com/index.cfm?fuseaction=user.viewprofile&friendid=5607126

Alain Valet : Blog poésie et images : http://alainvalet.blogspot.com/

Matt: Sound collage with Burroughs' voice : http://www.crude.co.nz/sounds/crudecasts/burroughs.mp3

jack

Kerouac ny site :

http://kerouacsnewyork.tripod.com This report is on line at http://www.interpc.fr/mapage/westernlands/reportjuly06.html The French version will be on line soon at

http://www.interpc.fr/mapage/westernlands/reportjuly06fr.html

Talk to you tomorrow in the Mirc chat if you can make it.

Inter-zone.org : The Western Lands - Interzone Academy - Interzone Creations - Interzone Library - Reporters-Rédacteurs d'Interzone - Académie 23 - La sémantique générale pour tous - Interzone news